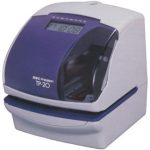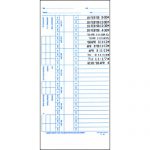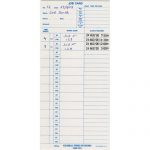 RECONDITIONED SEIKO TP-20 TIME CLOCK
$440.00 (inc GST)
1 in stock
Note: This machine is fully reconditioned and comes with 6 months full warranty. Only ONE left in stock and ideal for those who already have a Seiko TP-20 Time Clock.
MAIN FEATURES
MEDIUM DUTY MACHINE
Can be used for both payroll and/or job costing
Uses payroll (P-10) or job costing (JC-10) time cards or your own document papers
Semi-automatic time and date stamp time clock
Maximum employee count: Unlimited
Prints in AM/PM or 24hr time format
Built-in Li battery back up for memory protection
Perpetual calendar of year-on-year advancement
Automatic day light savings adjustments
31 possible print formats, some include:
JUL 25 8:32 (month, date, hour, minute)
14 SEP 10:44 (date, month, hour, minute)
7 AUG06 7:30am (date, month, year, AM/PM)
06 Oct 12 8:48 (year, month, date, time)
FAXED06 AUG 12 (comment, year, month, date)
The Seiko TP-20 has even more print styles! Call us on (03) 9317-0488 if you require a different print style.
CLOCK ONLY
1 X Reconditioned Seiko TP-20 time clock
1 X Base board supplied with screw kit
1 X Initial programming as required
1 X Delivery (Australia-wide)
12 months full back-to-base warranty on all parts and labour
1 in stock